Hair modelling
Completing the hair fibre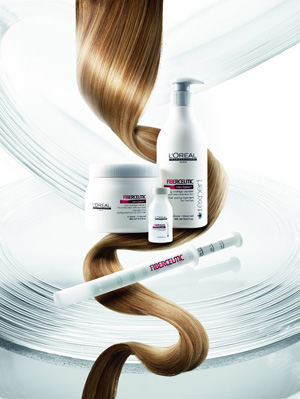 The innovative FIBERCEUTIC service of completing the hair fibre was introduced into our salon just a year ago. This revolutionary hair care, inspired by aesthetic medicine, sparked great interest among women with hair that had been very damaged by drying, brushing, or colouring. After summer, your hair deserves the care comparable to plastic surgery.
Every woman wishes for a beautiful hair style. During certain seasons, hair is more burdened and requires more essential care. In the summer months, hair is more exposed to various external elements such as sea salt, sun rays, chlorinated water, and others. Just like you take care of your skin in the summertime, your hair also requires the proper amount of care to remain beautiful and healthy all year round.
If you long to treat your hair to exceptional healing technology and return its flexibility, strength, and shine, now is your chance to take advantage of our FIBERCEUTIC innovative service in our salon.
Don't wait for only after summer to give your hair the advantages of Intra-cylane TM technology; become another satisfied customer with beautiful and healthy hair.