Andrea Josková
Leading Czech hair stylist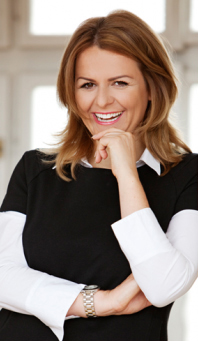 Holder of the title AMBASSADOR L'ORÉAL PROFESSIONNEL, granted to the best hair stylists in each country (there are currently only five active ambassadors in the Czech Republic).
Member of the French association HAUTE COIFFURE FRANCAISE Paris, founded in 1945 and bringing together hair stylists that stand out for their high professional skills, artistic level, and moral credit.
Membership in the HCF association guarantees the superior quality of the entire salon and hair styling team. The HCF logo indicates the salon's excellence and is understood throughout the world.
"My philosophy of hair consulting is based on a purely individual approach and on an exceptionally high level of customer care. The salon's environment is comfortable and very inspiring. This enables each customer to find their other self," states Andrea Josková.
Andrea Josková's work is personal and exclusive, characterized by clean style lines and perfect sophistication. Photographs of styles created in her salon appear regularly in domestic and international fashion and professional magazines.
The exclusivity of Andrea Josková lies in her hair styling mastery, but also in her approach to her customers. Her education and training has taught her to capture the essence of a person, then to help him/her discover him/herself. The hair care is then consistent with the personality, with the other "I" or alter ego of the customer, who feels good and comfortable in the new hair style.
It is in this spirit and toward this art to which she leads the members of her team.
She works exclusively with L'Oréal Professionnel products, primarily with the exclusive line of Kérastase Paris products tailored to more demanding customers.
Andrea Josková also leads a professional training program for hair stylists focused on cutting, colouring, and styling in the L'ORÉAL PROFESSIONNEL Academy in Prague and Bratislava.
20 years practice in her field
professional experience in Paris, London, Sydney, and Livorno
Salon Andrea Josková founded in 1996
gained the Koncept Institut Kérastase certificate of quality in 2002 as the first salon in the Czech Republic
is also a member of the group of the highest quality salons cooperating with the brand L'ORÉAL PROFESSIONNEL, entitling her to use the designation Salon Expert Platin.